Master's Program/MBA In Telecommunication Management (MPTM): Joint program of Aegis and CETTM, MTNL a Govt of India Enterprise
Worldwide Telecom Industry snapshot
Indian Telecom Industry snapshot
Program Overview

Master's Program in Telecommunication Management (MPTM), commonly known as MBA in Telecom Management or MS in Telecom Management, was started in 2002 by Aegis School of Business & Telecommunication, with the support of Bharti Airtel, to develop future telecommunication managers who understand telecommunication operations from management, finance, legal and regulatory perspectives. MBA in Telecom Management is an interdisciplinary program designed to give you the skills necessary to manage telecommunications networks, including data, video, and voice networks. Telecom Management students understand both: legacy telecom networks as well as modern IP networks.
This year Aegis and CETTM, MTNL, a Govt. of India Enterprise signed an MOU to jointly offer Master's Program in Telecommunication Management (MPTM); PGP in Cloud Computing and PGP in Busienss Analytics & Big Data at Centre for Excellence in Telecom Technology and Management (CETTM), MTNL's world class campus with state of art telecom labs at Powai in Mumbai. Over 40 experienced experts in telecom of CETTM, MTNL will be teaching technology part of the program. Check details http://cettm.mtnl.in/index.php/programs/programs-jt-academic-prgm/programs-jap-aegis-tm
Why Telecom Management and its Learning Objectives
Program Highlights
Who Should Attend
Career Opportunities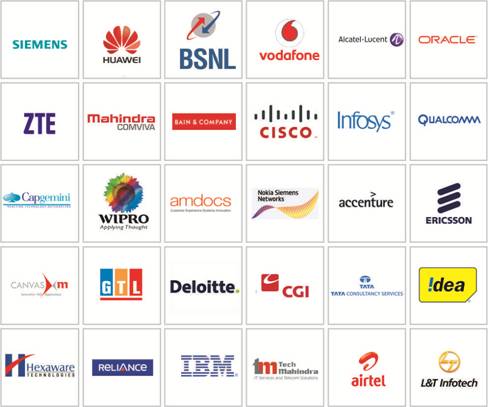 Career in
Program Structure and Delivery

The pedagogy will be highly interactive taking advantage of technology. The program is a judicious blend of lectures, real life case studies, quizzes, online tests, assignments, etc. Apart from 10 months of classroom training and a 2-month internship, there are live consulting assignments which is an important aspect of the course.
Delivery Tools
Admission Process
Aegis Advantages
World Class infrastructure Aegis has signed MoU with MTNL for delivery of joint programs.The program will be delivered at world class state of art and infrastructure of MTNL at CETTM, Powai.
Academic Association with Telecom Ecole de Management (among the top ten Business Schools in France) Aegis students can do part of study under student exchange program at Telecom Ecole de Management in Maisel campus in Paris.
Top B. School for MBA / MS in Telecom Management: Aegis School of Business and Telecommunication is among the top three schools offering MBA/ MS / PG in Telecom Management in India. Programs in Telecom Management are offered by only 23 Universities across the world.
Consulting and Finest Teaching: We are a truly global consulting Business & Telecommunication management school. We have the right mix of top academicians, practitioners, telecom leaders and first generation entrepreneurs as our professors. Most of them are engaged in core telecom technology, business and also in consulting to Corporate, NGO's, Government bodies, World Bank etc. This offers you immense opportunity to work with our professors beyond the class room, on different live consulting assignments and acquire the vital skills needed for success in life, corporate world and entrepreneurial ventures.
Financial Aid is available in the form of scholarships, work assistance-ships/ assured part time jobs through which you can earn a substantial amount to defray the cost of the course. Major Indian banks also offer study loans.
Global Corporate Connections: Aegis MPTM program was developed to create Future Leaders with the help of top firms such as Reliance Infocom, Bain, Bharti - Airtel, Qualcom, GTL, Nortel, Cisco, Oracle, Accenture, Boston Consulting Group (BCG), Ernst & Young, Deloitte Consulting, BSNL, Vodafone, Tata Communication, Huawei, Nokia Siemens Networks, TCS, Wipro, Orange, HCL etc.
Placement and Live consulting assignments & internships: Some of the top firms that have employed Aegis alumni are: The Clinton Foundation, Ernst & Young, Bharti - Airtel, Tata Communications, Tata Indicom, Reliance Communications, Vodafone, Idea, VSNL, GTL, Nortel, Ericsson, Nokia, Cisco, Siemens, Leadcap Ventures, Lucent, Avaya, Org Telecom, ZTE, Huawei, Nokia Siemens Networks, TCS, Wipro, Orange, HCL, etc.
Small Class Size: At Aegis you do not study in large classes where you feel lost, and faculties do not know your name. Researchers have found that gains in achievement are multiplied generally when the class size is less than 20 students. Aegis has a small class size, which both facilitates a collaborative and discussion-oriented classroom atmosphere and strengthens your relationship with faculties and the peer group.
Learning Management System (LMS): LMS is designed to manage the learning experience at Aegis. It helps candidates to access lectures on demand at their convenience. Full access is provided on campus via the school's intranet as well as the internet. The resource consists of all the study materials in PPT, Word and html format. Streaming audio and video lectures integrated with PPT of live class room lectures are available on LMS (mUniversity)
Global Credit Hrs System: Globally accepted Credit hr based model. Aegis MPTM/ MBA/ MS in Telecom Management is a 54 credits hrs program equivalent to any internationally recognized masters degree.
Work assistance-ship commonly known as Part Time jobs to all selected and enrolled candidates for MPTM program. Part Time jobs are available with Aegis School of Business and other partner companies like Jaina Systems, Inner Circle, LeadCap Ventures, Aspirtek and Bach Connections. Candidates need to work for 15 hrs a week and they get Rs. 5000 to 10,000 per month.
Full time, Part Time, Certification and Conferences in Telecom Management, Enterprise Mobility, Social Media, Marketing/ Digital Marketing, Business Analytics/ Big Data and Cloud Computing
Aegis Graham Bell Awards and Scholarships as a tribute to father of the telephony, Sir Alexander Graham Bell to identify the talented students who can contribute in the field of Time (Telecom, Internet, Media & Edutainment) through their innovative ideas and/or competency to convert an idea into a reality
Download the Application Form (word format)


Download the MPTM PPT